Siemens RVL482 As RVL481 + Bolier Sequencing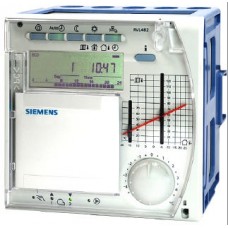 Brand:
Siemens Landis
Product Code:
RVL482
Reward Points:
0
Availability:
In Stock
Price: £777.00

Siemens RVL482 As RVL481 + Bolier Sequencing
· The RVL482 is a multifunctional heating controller for use in residential and nonresidential buildings that have their own d.h.w. heating facility
· Suited for:
- Heating zone control with or without room influence via weather-compensated flow temperature control and, simultaneously, demand-compensated boiler temperature control
- Precontrol via demand-compensated boiler temperature control. Suited for int egration into heat source cascades or heat generation systems (heat pump, solar, wood-fired boiler)
· For use in heating plants with own heat generation or in interconnected systems
· With regard to d.h.w. heating, the RVL482 is suited for plants with d.h.w. storage tanks, electric immersion heaters, solar d.h.w. heating and instantaneous systems with own heat exchangers
· The RVL482 has 21 plant types pre-programmed. When a certain type of plant is selected, all functions and settings required for that particular plant will be activated
· A multifunctional relay provides additional control functions, if required
· 2 separately scalable voltage inputs DC 0…10 V are used to receive heat demand signals from external consumers
· The RVL482 has connection facilities for one wind sensor and one solar sensor
· For the direct setting of the heating curve, the "little bar" is used. The heating curve can also be set in digital form. A setting knob is used for making room temperature readjustments
· All the other parameters are set digitally based on the operating line principle
· The RVL482 is capable of communicating with other units via LPB (Local Process Bus)
· Key design features: Operating voltage AC 230 V, CE conformity, overall dimensions to IEC 61554 (144 x 144 mm)

Write a review
Your Name:
Your Review:
Note: HTML is not translated!
Rating:
Bad
Good
Enter the code in the box below: